Home [Away From] Home - Ethiopian and Eritrean Arts Project & Festival is an experimental art project and festival featuring artists from the Ethiopian and Eritrean communities of the Bay Area. The celebration is focused on the days surrounding this year's Eritrean and Ethiopian New Year (Sept 11, 2014).
This is something a small group of us has been cooking up for nearly a year. We are building a Gojo/Adgo, an Ethio-Eritrean traditional house, that will serve as a pop-up art gallery on Lake Merritt in Oakland, CA. We have a group of ten artists from our communities who we have commissioned to create new work on the theme of "Home [Away From] Home and we want to celebrate with you over the course of OUR New Years week. Full schedule below. All events are free and open to the public. Home [Away From] Home is project of YBCA-In-Community. See you there!
Pop up art installation + special events (9/7-9/13) | Festival Day (9/14)
Full schedule below

Sept 7th: 10 am - 8 pm. Building the Home/Gojo/Adgo
--
Sept 8th: 10 am - 8 pm. Art installation day
--
Sept 9th: 10 am - 8 pm. Gallery Hours! Stop by to check out the Home/Gojo/Adgo, as well as artwork commissioned by our ten artists....
--
Sept 10th:
10 am - 6 pm, Gallery Hours.
6 pm - 8 pm, Artists Talks // Q&A. Stop by to meet the artists, learn about the process of creating artwork based on Taxi Stories from the Ethiopian and Eritrean community of drivers.
---
Sept 11th, NEW YEARS DAY!
10 am - 6 pm, Gallery Hours
6 pm - midnight, Celebration @Studio Grand, 3234 Grand Ave, Oakland. One block from the Home.
6-7 pm - Writers and poets salon
7-8 pm - Film shorts
8 pm - Happy hour beverage tasting with drinks sourced from Ethiopia/Eritrea.
9 pm - mingling, music, special guest DJ and more happy hour beverages from Ethiopia/Eritrea!
---
Sept 12th
10 am - 8 pm, Gallery Hours + School Visits
---
Sept 13th
Enkutatash at Mosswood Park!
----
Sept 14th - FESTIVAL DAY!!!!

LIVE MUSICAL PERFORMANCES by

Gabriel Teodros
CopperWire
Melted States
Zena Konjo, and more!

Stage powered by Rock the Bike Pedal Power.

Children's Play Area on site at East Shore Park.

Local Vendors will be tabling all day!

"Eiretrea" Eritrean & Irish Food Truck!

UMBRELLA PAINTING: Arts and Crafts for kids and families
12 pm - 6 pm.
Umbrellas have a special significance in Ethiopia and Eritrea. They are used ceremonially, but are also a simple shelter from the sun. Join us in a multicolored umbrella painting activity for children and families. Umbrellas will be given away to participating families towards the end of the Sunday Festival finale event.

BRAIDING AS SCULPTURE COMPETITION:
1 to 6 PM.
The Braiding As Sculpture competition recognizes that braiding is a three dimensional art which maps ideas of geometry, design aesthetics and beauty on to the pallet of the body. Through bringing the often informal act of braiding to a "live" context, we transform it into performance and installation happening in real time.

A panel of judges and YOU the audience will determine the winners. First prize will win a 3-D printed model of the winning braid style (in other words, literally a sculpture) and a cash prize of $100.

THE FAMILY PORTRAIT SALON
4-5:30pm
Bring your family and friends to the Home [Away From] Home festival site decked out in Eritrean/Ethiopian traditional dress and a professional photographer will take your portrait! Attendees can download high res jpeg files the following week. Modern designs and outfits inspired by traditional dress are more than welcome. We are documenting the Ethiopian and Eritrean communities of the Bay Area, reimagining the family portrait style found in homes across East Africa and the diaspora, as well as showing off our fabulous fashion, textiles and design sense. See you there!

COFFEE CEREMONY by ANFILO COFFEE
All day long.
Enjoy coffee the traditional way, all day long!

Home [Away From] Home serves as a metaphor for African immigrants in the diaspora trying to build a home in America while maintaining and sharing their cultural identity in the USA. With a respect for the unique histories of the Ethiopian and Eritrean peoples, we are excited to highlight the art, music, and culture that brings immigrants from these two communities together while exploring the theme of "Home [away from] Home". The week will be filled with multiple attractions, performances, and events while each week day of the festival will highlight a different component of Eritrean and Ethiopian culture including: Clothing/ Textiles, Language Day (Free Tigrinya and Amharic classes), Music and Dance, Food and Drink, and Community Building.

Home [away from] Home is the brain child of Ethiopian American singer Meklit Hadero, Eritrean American filmmaker Sephora Woldu, and Ethiopian American musician Ellias Fullmore. The project is supported by YBCA In-Community, a new initiative created by Yerba Buena Center for the Arts Museum (YBCA).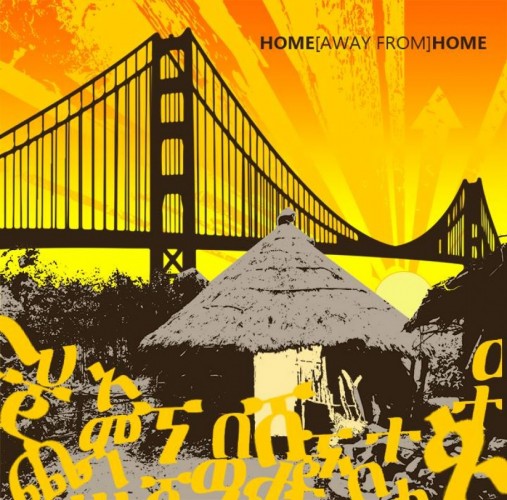 Share this page